Check availability for all our venues
What our guests are saying
Most awesome birthday ever thank you!
Wow, everything and more! Fantastic place, well thought out, everything you could want for a sexy weekend away; highly recommended, great location will definitely stay again, so well equipped only problem is we didn't stay long enough to use everything.
Rachel, GB
Amazing stay will definetly be back
What's there not to like? This is a great wee hidden gem in Brighton. More venues if setting up should take note of how this place is set up. Just a pity we don't have something like this on our doorstep. From the amazing bedroom to the dungeons, the decor is lovely.
David, gb
Unforgettable experience!
Great place – three themed rooms (+ two additional "lockers"), lots of gadgets, men's disguises, masks, etc., TV with movies, the ability to connect your own music, fridge, coffee machine, as well as a gift from the host. We didn't expect so much pleasure;)
Katie, Pl
Wonderful, very clean, comfy, discreet and easy to access
Everything was amazing, very clean and easy to access to. The location was very suitable as well and easy to access, the directions written were a good use as well.
rei, gb
Absolutely incredible!
They literally thought of everything to make the stay perfect. We travelled 4 hours to stay here, it was definitely worth it! We will be returning in the future.
Bri, gb
A wonderful stay, we'll definitely book again.
An amazing night away for couples looking to spice things up a little! The facilities exceeded our expectations. The location is amazing with great restaurants and shopping within walking distance, we'll definitely be back!
GB, London
Everything we could have wanted for a kinky, sexy and fun couple of nights
The Brighton Dungeon is great for those wanting to get into a little kink or for the more serious fetishists out there. Once inside, you're locked away (literally if you want) from everyone else, in your own world in an amazing, erotic and kinky environment.
Mark, GB
A truly fantastic night that exceeded all expectations!
An exceedingly well thought out venue, catering for all tastes and kinks. The generosity of the gifts only added to the truly excellent value. And the mirrors! What a night! We'll be back…very soon…
Anonymous
Beyond my wildest dreams!
It was the best stay we have ever had, superb facilities, everything and more was provided. Everything was to a very high standard and would definitely recommend.
Anonymous
Voted Best UK Dungeon 2022
Two locations, two different sensual experiences. Welcome to the Brighton Dungeon and The Boutique.
Both locations are discreet, private and offer fully equipped play/accommodation spaces in Central Brighton, on the South Coast situated moments from the Seafront. Both offer a unique kinky play space for adventurous couples and experienced players.
The Brighton Dungeon
The Brighton Dungeon (also known as Brighton Erotic Boudoir) is a discrete and private underground dungeon chamber. Located in Brighton on the South Coast of England situated moments from the seafront.
Our private, self-contained accommodation offers 5 unique playrooms. The Punishment playroom, Interrogation cell, Medical fantasy room, Wet room and luxury boudoir bedroom. You can hire The Dungeon for a minimum of 2 hours / daily or for overnight and weekend stays.
Our room hire is available 7 days a week with advanced bookings. Payment will be taken in full. This is non-refundable should you give us less than 2 weeks' notice.
The Brighton Dungeon is ideal for overnight stays for couples wanting to explore their kinky side in a private and discreet location. They'll have full use of all the dungeon playrooms and facilities.
The space has been designed with content creation in mind: the themes are red, gold and black.
The Boutique
Step into the luxury Boutique for a stay to excite your senses. A stand-alone small house in central Brighton with a private entrance, 15 minutes walk away from Brighton Station and 2 minutes walk away from the seafront.
The Boutique comprises an open plan sitting room/playroom and kitchen with a click clack sofa bed, a double bedroom with a play area within it, and a dedicated playroom. The Boutique Dungeon accommodates three people comfortably, four people at a push.
The main dungeon chamber is fully equipped with lots of BDSM furniture and BDSM accessories.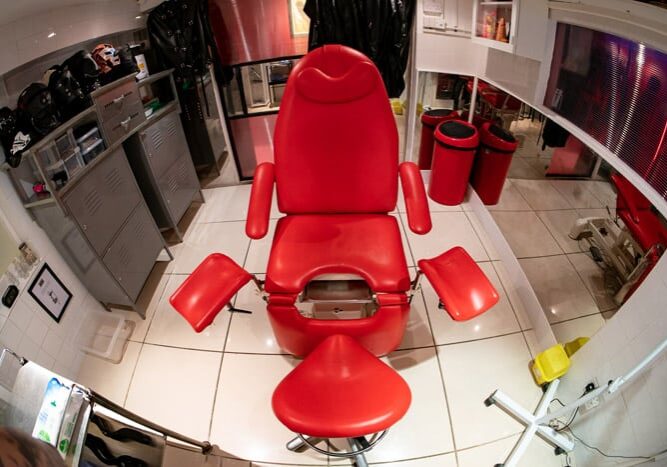 The Medical Room with its gynecological chair and mirrored ceiling is an ideal space for role play.
Beautiful, fully tiled wetroom incorporating toilet, shower and washbasin.
The bedroom with a solid black metal double bed, mirrored ceiling, St. Andrews Cross and spanking bench with face rest and BDSM accessories.
The open plan sitting room/playroom/kitchen has a wall-mounted gilded St Andrew's Cross, a gilded spanking bench and BDSM accessories.
The Playroom features a solid metal frame for suspension, with anchor points, and includes a sling.
The fully fitted kitchen with a dedicated dining area and space to relax.
The compact luxury bathroom features a shower and bath to relax in.